In order to use WSPR under Linux, I had to compile K1JT's WSPR software. This was a little tricky, but while I was at it, I documented the process and a few useful URLs too. See my Compiling WSPR and Compiling WSPR-X pages for more information. There is a Mac OS X build too.
You may also be interested in my WSPR Statistics page where I graph some of the parameters from WSPR. I have time-lapse videos of WSPR on YouTube too: TimeLapse WSPR Reception and TimeLapse WSPR Map
Have you seen my Arduino Based WSPR Transmitter and my 472 kHz (630m) WSPR and 2 metres WSPR pages?
10 Metres Wide Open
Tuesday, 23th October 2012
Today 10m was wide open and so I made the most of it. I had left WSPR bandhopping. This is what it picked up, RX only.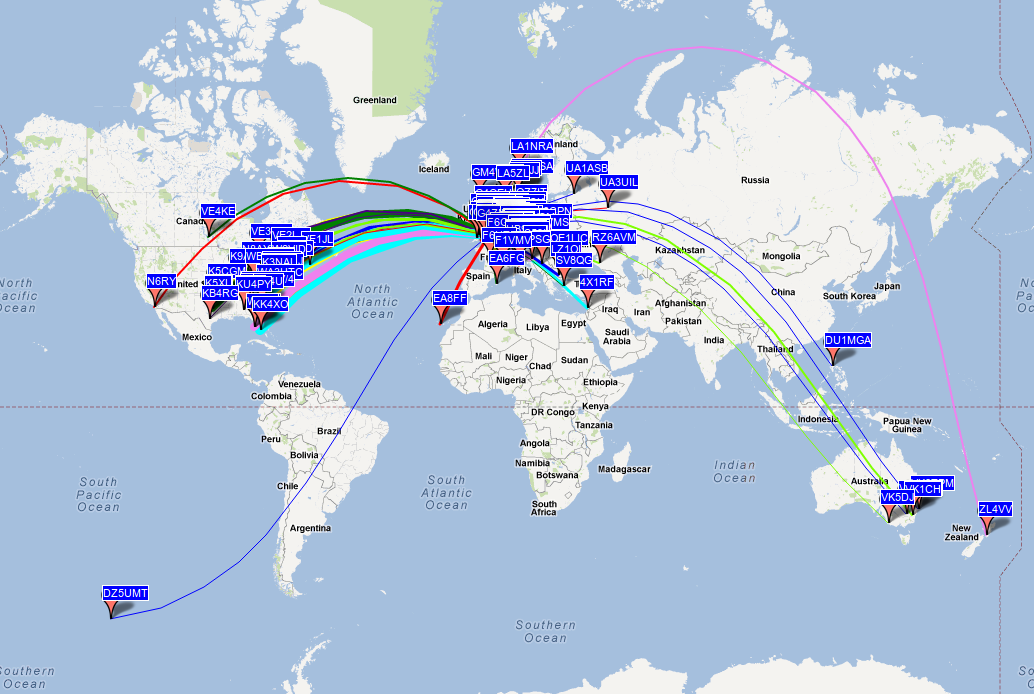 A Good Saturday
Sunday, 21th October 2012
This image was captured of the last 24 hours today. It's multiple images joined. I am pretty pleased with the reception only coverage; I really need to get my transmitter going again! This is currently band-hopping! I just lost the ZL4 and VK4 stations by minutes within the last 24 hours!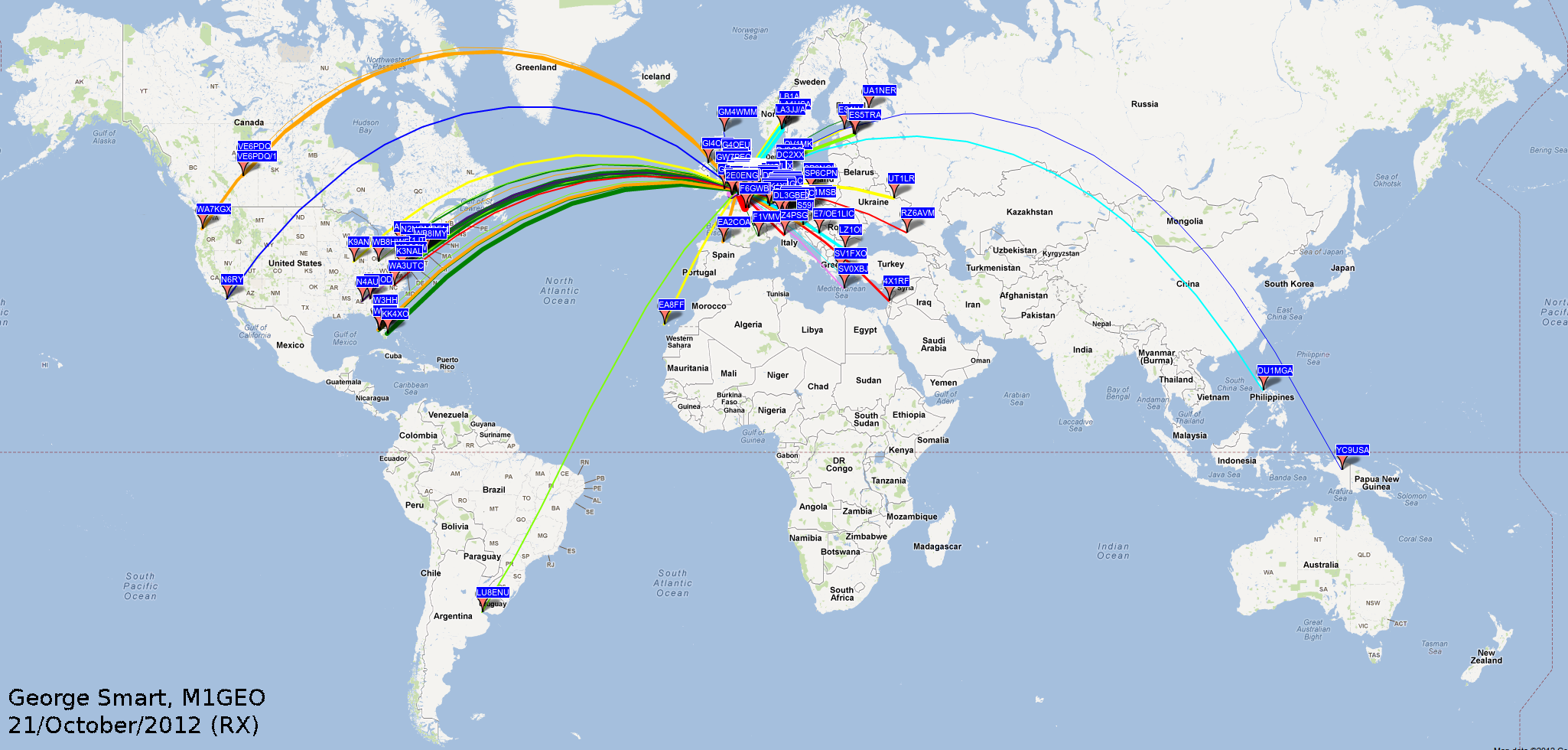 Receiving on the Doublet
Tuesday, 16th October 2012
Today I started receiving on the doublet antenna again following the recent good conditions on HF. 10 metres has been very open the past month, but it seems it's tailing off now. I have probably missed it, though I did get some great SSB contacts on 10. The map below was taken on Wednesday, 17th November, on 20 metres – receive only. Using WSPR 3.0.1 on Ubuntu 12.04 LTS.
Transmitting Again
Saturday, 28th October 2011
Over the last week I have started transmitting again. Radio conditions have improved considerably since previous posts. The images below show some recent WSPR reception spots as well as my part in the map of spots: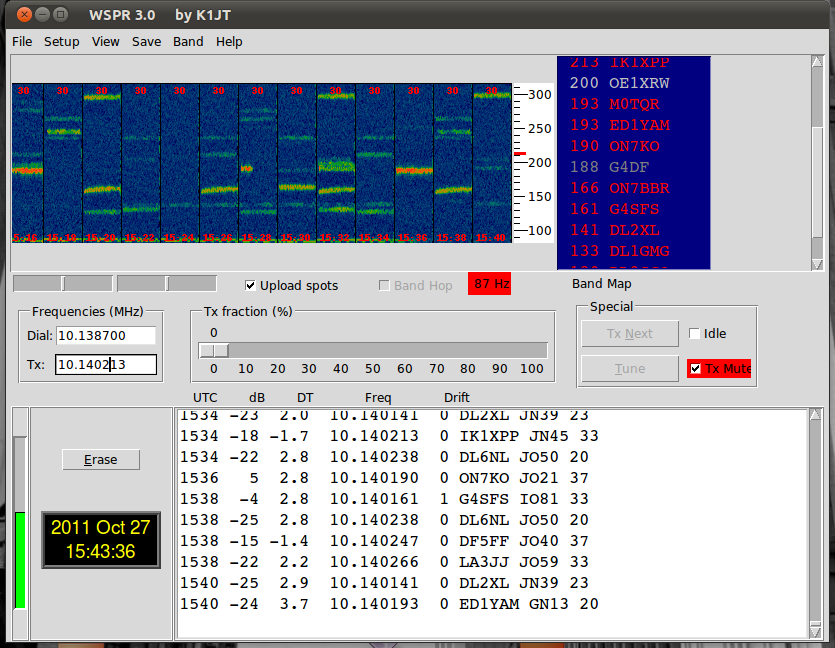 The spots map (image) was taken at the time of this post.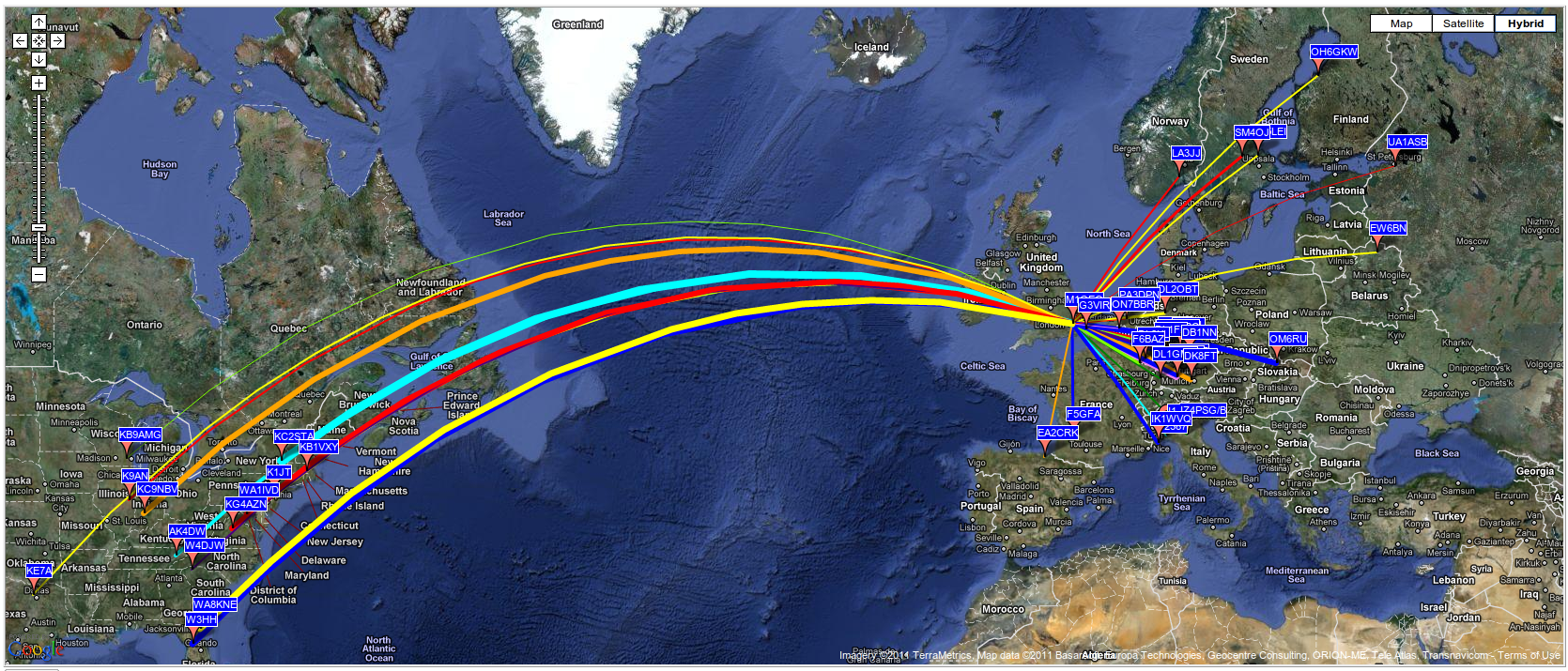 Yaesu FT-857, CAT Interface and Mac OS X
Saturday, 28th May 2011
So in the last month I have purchased a Yaesu FT-857D and designed & built a Yaesu CAT Interface for controlling the radio via PC. I wanted to try transmitting again and having set my 857 up inside the house, I would aim to give it a try. My main PC runs Ubuntu Linux, and although this would have no problems running the WSPR program, it only has one soundcard, and I use that for listening to music! I whipped out the MacBook, and had a hunt about online. I was just getting prepared to lookup how to compile the WSPR program (ready for another tutorial!) and then I noticed that NH6Z had beaten me to it! If you are looking to run WSPR on OS X, the WSPR section of this page is what you need: http://www.nh6z.net/Amatuer_Radio_Station_NH6Z/Other_Peoples_Software.html.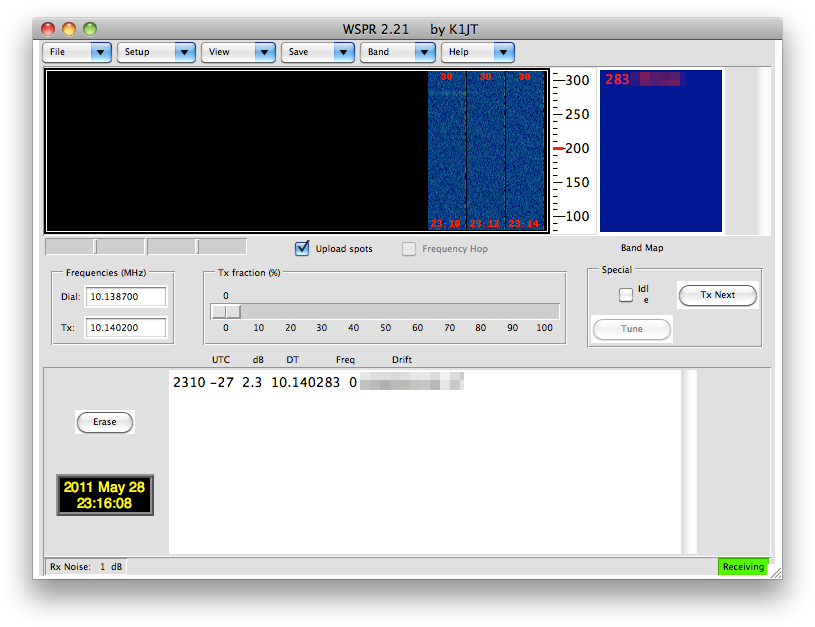 CAT Interface
Tuesday, 26th July 2011
As Griff (M0HWS) mentioned in an email to me, to use the CAT interface with the OS X build of WSPR requires putting the HamLib libraries, specifically the rigctl binary. I cannot remember the exact details for how I did this, but I can offer you my Application to download. It is based on WSPR 3.0 from NH6Z (as above) with the HamLib files added in by myself. Feel free to strip the hamlib and rigctl files from this package and add them to your own, or simply run my package (after changing the callsign, of course!). The files required are located inside the Package's Resource folder: /WSPR.app/Contents/Resources/ It should be evident which files are hamlib as they all have that in their name. Don't forget rigctl too.
WSPR 3.0 with CAT Files Included (HamLib & RigCtl) (~10MB) TAR file includes WSPR.app which is an OS X compatible Application.
A Busy Day
Friday, 7th January 2011
Yesterday and Today have been pretty busy in the WSPR world. I have had the (Dad's) Yaesu FT-817 on as a receiving station for a while now. I check the screen on the computer regularly. Today, I checked the software as usual; it was very busy – this is still on about 6 meters of wire. I decided to put a screenshot on here, so here it is: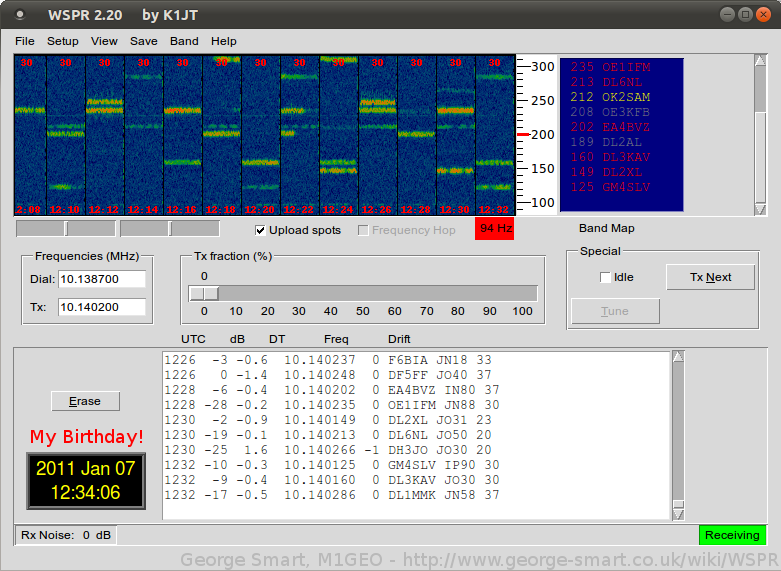 Must be because it's my birthday!
Software Version 2.20
Friday, 3rd December 2010
I haven't done any WSPR between the last post on 2/Nov/2010, and today. Before firing up the software I tool a look on WSPRnet to see if there were any special events running today – there weren't. I did, however, notice a new software version, 2.20_r2279. I had a quick look at the change logs between the version I had before and this new version, to find that frequency hopping was a new feature – I had been wondering about that for some time. I compiled the software in the same manor as before, as described here. The first RX cycle I received a few stations (SP9PW, OE3KFB, HB9EFK, SP7FFY). I will report back with more detail later today.
More Locations
Tuesday, 2nd November 2010
Today I noticed a few more interesting locations. I managed to be heard in Australia by VK2ZIW, as well as Wake Island (USA) by WA2YUN. The Wake Island prompted some interesting reading, see Wikipedia: Wake Island.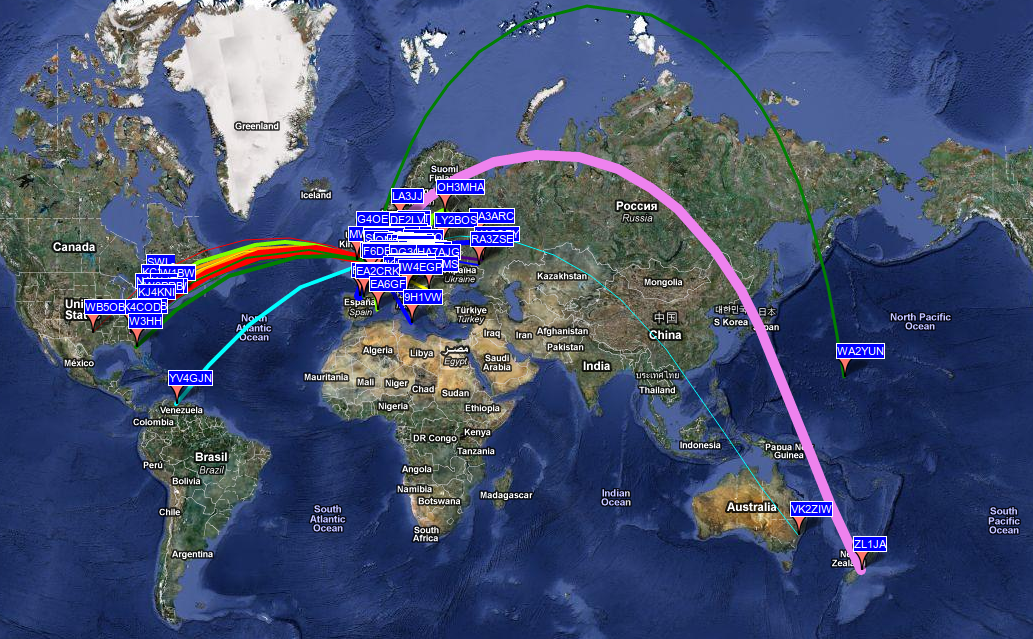 Weekend
Saturday, 30th October 2010
Looking through the spots database at WSPRnet, it seemed that there was a lot more activity on weekends. I assumed there would be more stations online. Having set the station up, I decided to reside on 30m – It was second busiest to 20m, but less noisy. About 13:00 UTC, I checked up on the station, only to find that I had reports from Vietnam (XV4TUJ), New Zeland (ZL1JA), and another from Japan (JQ2WDO). The previous reports of Brazil (PU2BFG) were now more than 24 hours old, and were not showable on the map.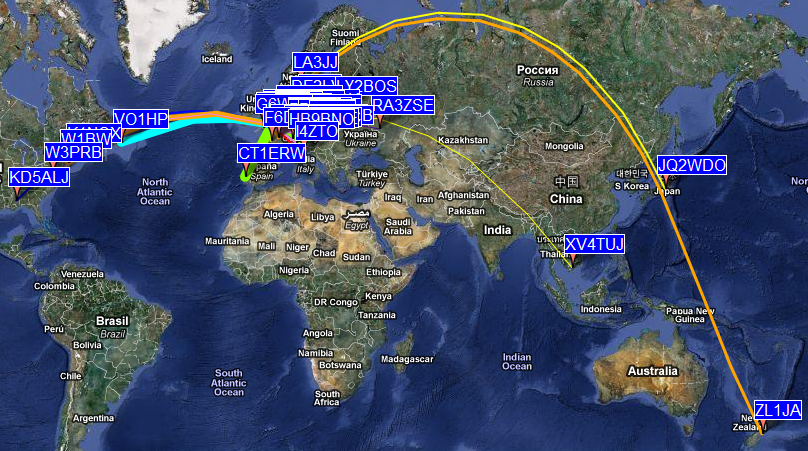 Hearing: DF5FF, DG6ABK, DG6RCH, DL4RU, DM5HF, OE3KFB, PE1DCD

Heard by: CT1ERW, DA4XIQ, DF2LV, DF5FF, DG3GBE, DG6ABK, DG6RCH, DH1GD, DJ0MDO, DL0NOT, DL4MFC, DL4RU,
DM5HF, F2WA, F6BIA, F6DED, G0KTN, G6WZA, HB9BNO, I4ZTO, JQ2WDO, K1NOX, KD5ALJ, LA3JJ, LY2BOS, M0BLP,
OE3KFB, ON7KO, OZ7IT, PA0QRB, PA1GSJ, PE1DCD, RA3ZSE, UNLIS, VO1HP, W1BW, W3PRB, XV4TUJ, ZL1JA
A Second Transmitting Attempt
Thursday, 28th October 2010
The map below is a map of the activity during the first day of 27th October 15- and 80-meter event. Much of the European stuff comes via 80m and 30m, where as The Americas were coming in thick and fast via 15m.

I got up pretty early this morning, 9am (very early for a student), and further tweaked the transmit settings until they worked correctly. I think now, if anything, I am under-modulating, but I'd rather that than making a mess of the bands. About 14:00 UTC, after returning from being out a short while, I checked back in to look at the reports. I was pleased to have been heard in many eastern American states, Canada, and Brazil – and only on 2W.
Here is a list of callsigns which I could hear or where hearing me during the morning of the 28th October on the 15-meter QRP activity day. Nothing was received on 80-meters due to insane amounts of local QRM at +40dB.
Hearing: DF5FF, DK9MS, DL2NI, DL5GAC, DL6NL, EA4ETR, F6AIU, IQ4AX, K1JT, K9AN, K9IUQ, KA1MDA,
KC2MOT, KD7YZ, N1NAZ, OK2TPT, RA3LW, RD3AMP, W3PM, W8AC

Heard by: G3KZU, K1JT, M0JEK, NS2B, PU2BFG, RA3LW, RD3AMP, SWL-VE3, VE3BXP, W1BW, W8AC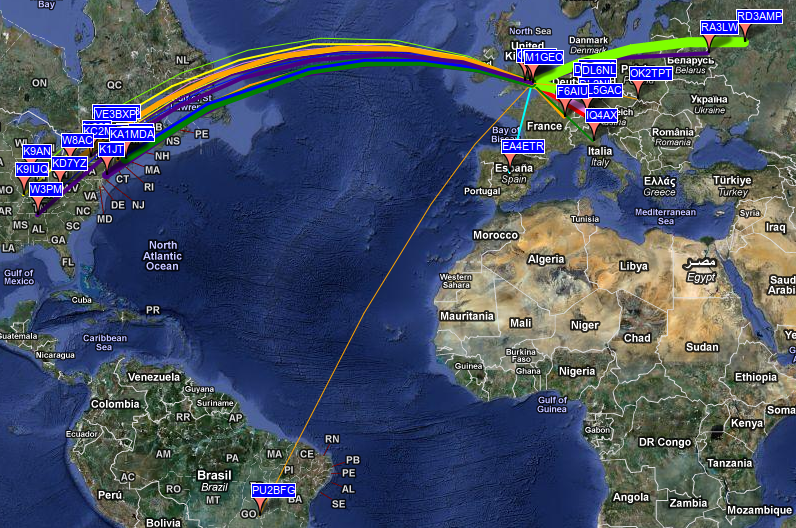 Transmitting
Wednesday, 27th October 2010


After noticing on the WSPRnet site that there were activity days, and that I was currently in one (15m and 80m), I decided to join in. I made cables for my radio, and set it all up, working out frequency shifts, etc to ensure I was in band. I set up everything according to instruction from both WSPR and ICOM manuals. After a while, I had tweaked enough, and so hit the TX Next button. At the next timeslot, the node started transmitting, and all was well. After the timeslot, I looked to find myself on the website. All was not good. I noticed that I was on a single station's received list twice. I guessed pretty much instantly I was over-modulating, and thus putting two signals out, either side of where i am supposed to be. The screenshot shows this to be the likely cause, and the text below shows the duplicate entries:
Timestamp Call MHz SNR Drift Grid Pwr Reporter RGrid km az
2010-10-27 00:32 M1GEO 10.140181 -1 0 JO01cn 5 DG0OPK JO50gq 727 94
2010-10-27 00:32 M1GEO 10.140281 -24 0 JO01cn 5 DG0OPK JO50gq 727 94
Finally, an extract of the WSPRnet database, showing all stations that have heard me thus far… I haven't managed to sort this problem yet, as it is getting towards 2:30am. It's a job for this morning. Also, I would like to get onto 15 and 80m. 80m is noisy here, maybe 15m would be a good start… Tomorrow will tell.
Receiving Map
Tuesday, 26th October 2010
While in the Lab at university, to pass the time, I was looking around WSPRnet where I found a map function. I had seen this before but never been tempted to scroll down – today, I noticed there are options to set what is displayed. So I set my callsign, and took a few printscreens which I joined together, below. I was pleased that there are a good number of stations I can hear. This image shows 32 recent spots. The thicker lines mean a better SNR or more spots – I'm unsure.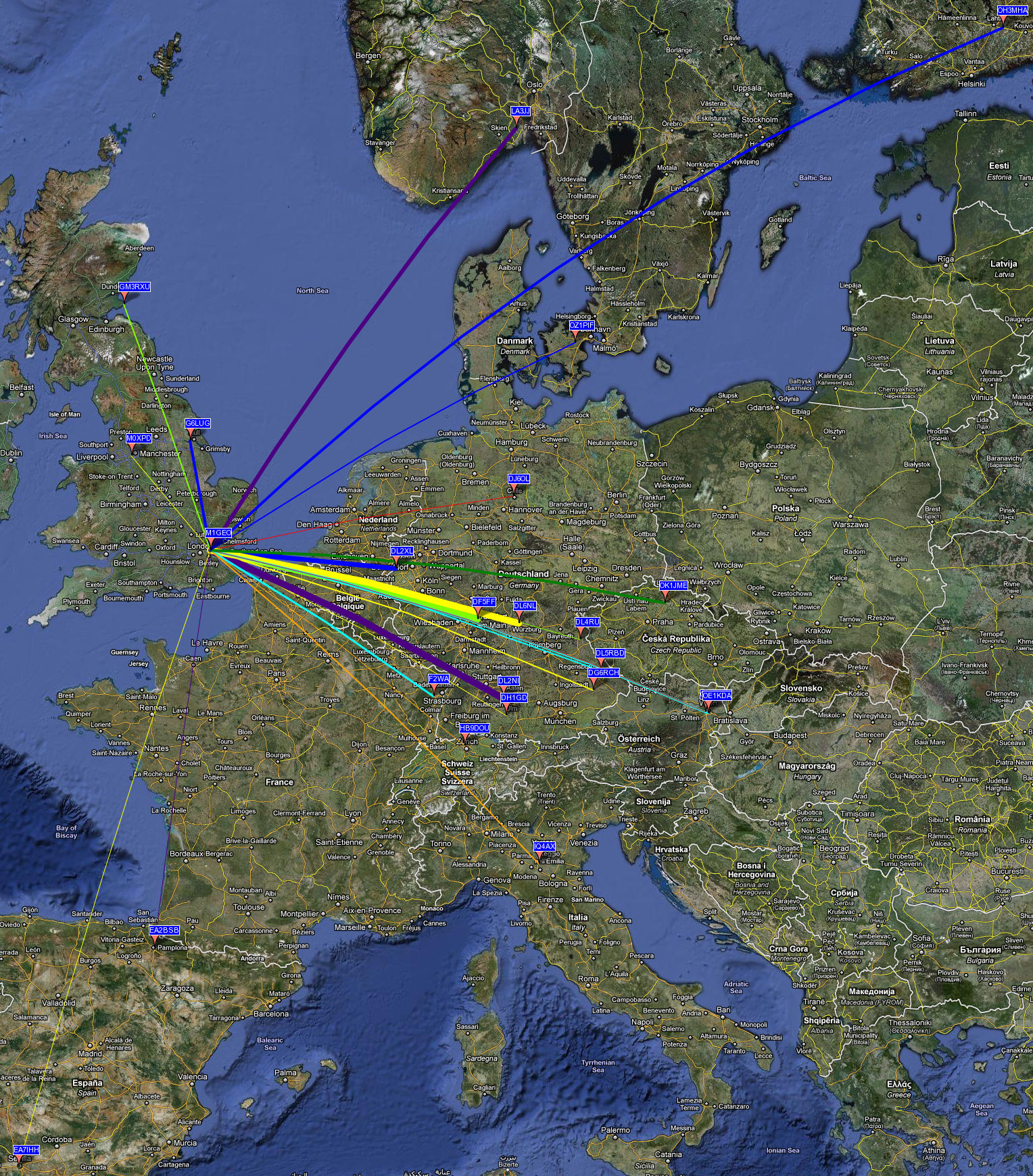 Second Attempt
Monday, 25th October 2010
Spurred on by yesterday's success, I installed the WSPR software on my MacBook. This went pretty smoothly, compiling once again. Setting up the software in pretty much the same way as before, I connected the Line-In to the Icom IC-7400 with a full size G5RV. Initial results were disappointing, as I could hear less than I could on the 6 meters of wire! Shocking. I am curious now, as to if I am hearing the entire band (i.e. if the radios frequency is out. I will check this soon enough. I also need to wait to see if things pick up too – after all, the main idea is to understand band conditions!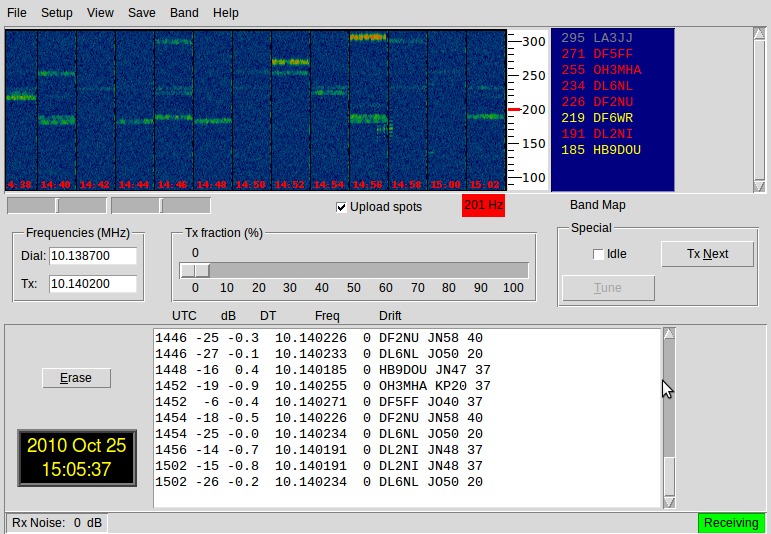 First Attempt
Sunday, 24th October 2010
After compiling the software, I decided to have a play. With the Yaesu FT-817, I connected an audio cable from the headphone socket of the receiver to the Line Input on my computers soundcard, set the input source in Ubuntu's sound manager, and then set the audio level as instructed by the WSPR program. Not really knowing what to do, I then went back and read the instructions. I had previously created a WSPRnet account, so I entered the details, and selected to upload spots. After a bit of fiddling, and on a wire about 6 meters long, I received about 5 German stations in the first 2 minutes. Impressed 🙂 I couldn't hear anything on any of the bands. Not even CW. There was quite a bit of QRM, as we live in a busy neighborhood – Laptops, PCs, WiFi, etc. There was a fair bit of RF noise, yet these signals continued to come through. During the first hour, on 6 meters of wire, stuffed in the back of a PL259, I received 39 stations. The image below is a screenshot of the software running, under poor conditions. I will get the radio on a full sized G5RV soon.