My Dad (G8OCV) initially got me interested in 472 kHz (630 metres) a few weeks back. Between now and then, we have built a nice preamp for our Icom IC-7400 and a MF power amplifier to go with my Arduino WSPR exciter.
Initially, all of my 472 kHz WSPR gear was on this page, but as the individual topics grew, it made sense to have them on their own seperate pages. 472 KHz WSPR is still documented on this page, but the other topics have moved…
The Setup
I fashioned a short YouTube video of the hardware:
Youtube Link
WSPR Spots
These two images are transmit (left) and receive (right) WSPR maps from 2012-Jan-28 at 23:00 GMT.
Some older WSPR spots from 2012-Jan-20 at 23:00 GMT, when transmitting using the described Transmitter from below.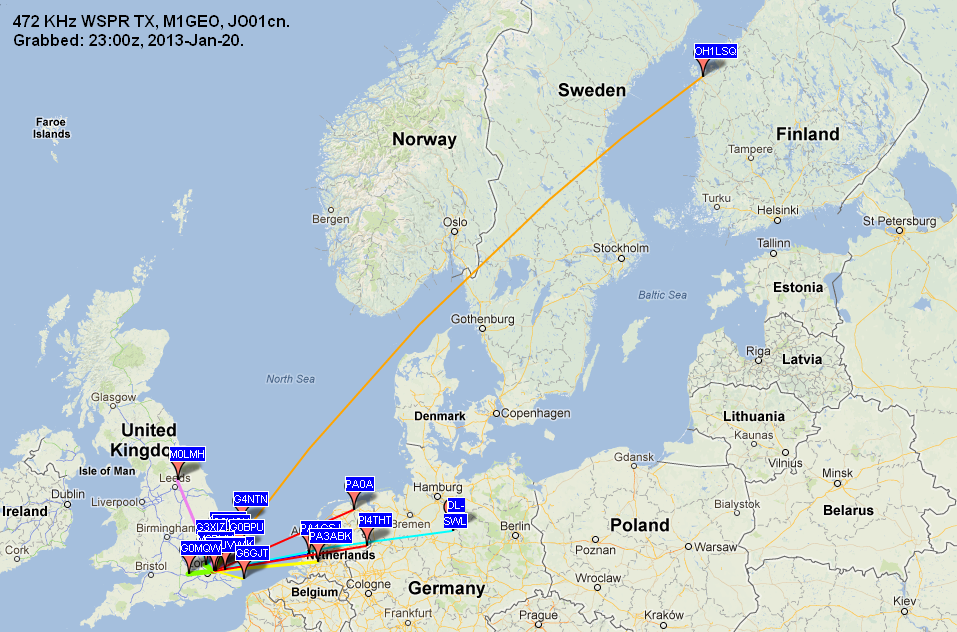 By comparing the images over a 8 day interval, it's easy to see that the number of stations on 472 kHz 630 metre band is growing rapidly!