IGate and Digipeater
This APRS setup is run on a Raspberry Pi model B (512 MB RAM, ARM6 1 GHz CPU). The IGate is handled by aprsg and the digipeater by DIGI_NED, both built from source, using the Linux AX.25 Kernel interface to control the KPC-9612+ TNC.
Radio Coverage
This is the radio coverage of the IGate and Digipeater based on the locations of received stations. The main area of reception is clearly visible. There are area's further out that this map doesn't show, but are likely to be subject to band conditions.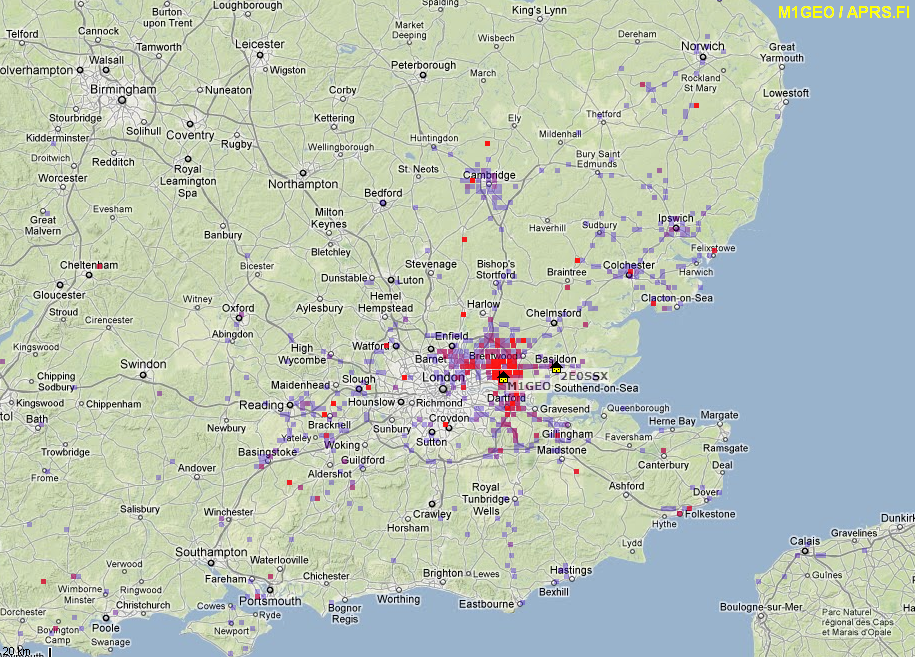 Graphs
These graphs show the data received/transmitted on the APRS port of the server, ax0.
Sorry, currently unavailable.
Hardware
The image below is a photograph of the hardware used for APRS at the main QTH. Formerly a Puxing handheld was used on APRS, putting out about 3W on 144.800MHz. However, during some QRM investigations we found the charging circuitry to cause considerable electrical noise and decided to replace the handheld with something a little more 'professsional'. The radio now is a Yaesu FT-2800M capable of a whopping 65 watts. The radio was acquired for a good price and is now performing APRS very nicely with a Kantronics KPC-9612 TNC. The power is set to 4 watts.

Mobile APRS
Mobile APRS is done through the use of my Mobile Car Station. This uses a FoxDelta FoxTrak with my Yaesu FT-857D to produce APRS frames from GPS. See the Mobile Car Station page for more details.
APRS.FI
APRS-IS Passcode Generator
My APRS-IS Passcode Generator can be found here.