Please note that this page is still a work in progress.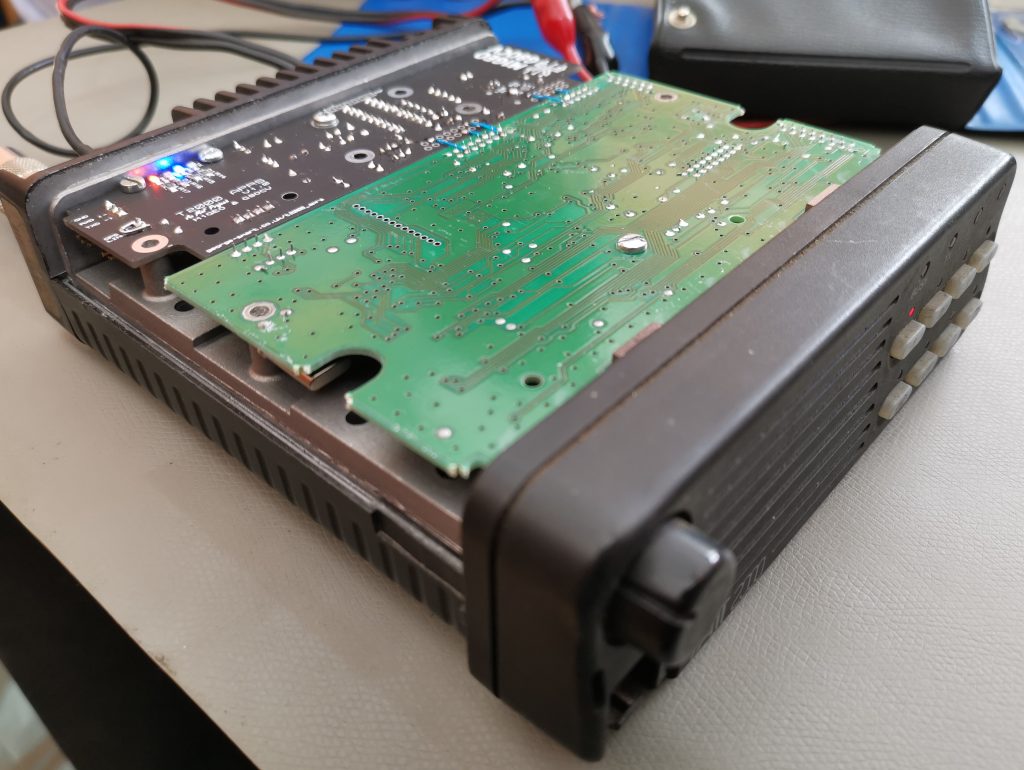 This project is designed to be a PCB that will fit inside the Tait T2000 radio as an option board to add APRS capabilities to the radio. The modification is as easy as removing the top cover, plugging in the two board connectors, fitting 3 screws and replacing the cover. The APRS board fits with the standard radio connectors just as you'd expect of a genuine Tait module.
The GPS antenna is connected to an SMA antenna which is visible through the D-sub socket hole in the back case.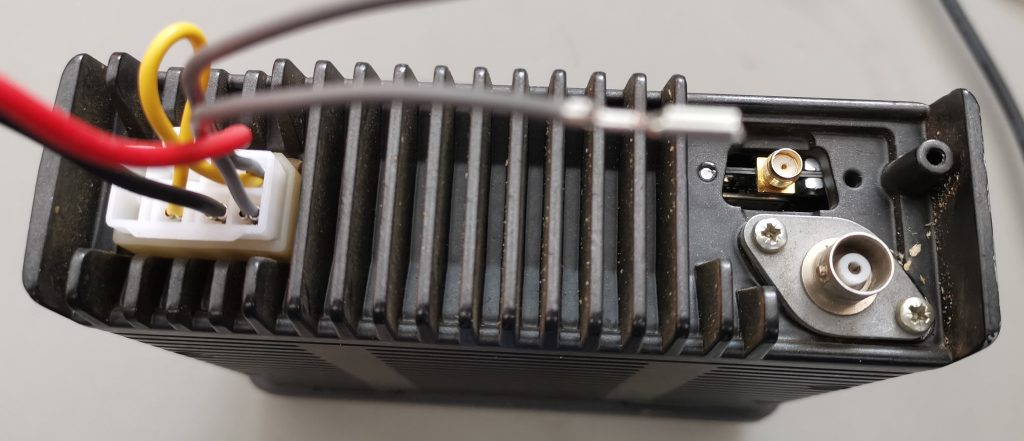 If programmed for momentary action inside the Tait software, the 'AUX' button on the front panel will cause a location packet to be transmitted.
Schematic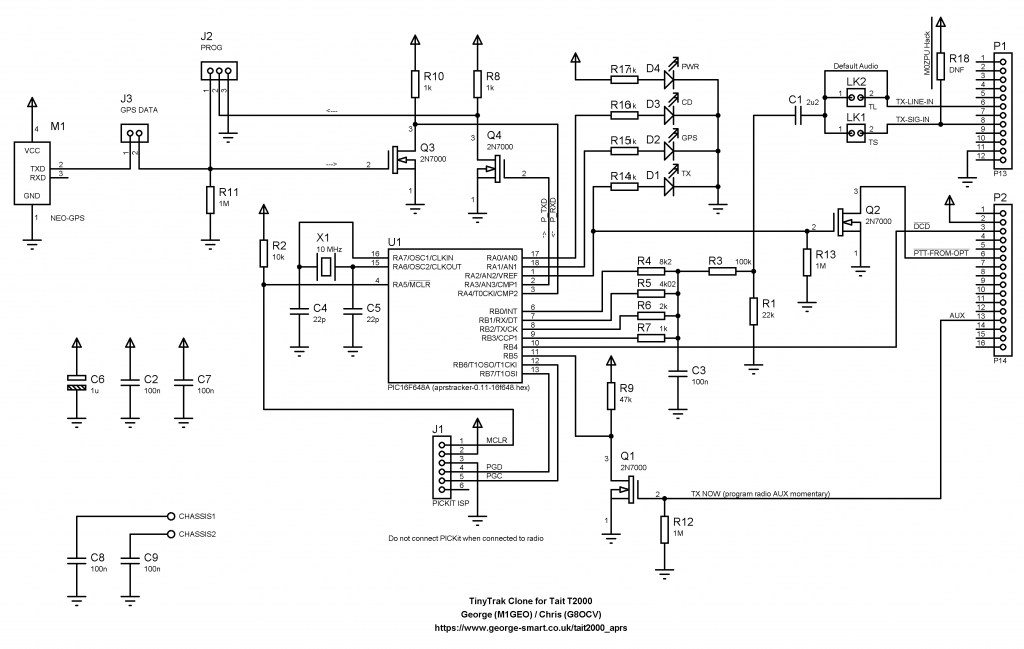 Build Notes

Do not fit R18.
Be careful crimping the plugs P1a and P2a on to the ribbon, as they have a protruding pin.
Bill of Materials
Please note that this section is still at work in progress. Although the components are correct and the project will work with the following part codes, the component series' are mixed, and the aesthetic of the board will be slightly inferior.
Programming the Board
Programming the PIC microcontroller
Use a PIC programmer to program the board externally, or an in-circuit programmer, such as the Mircochip PICKit, attached to J1. The board should be programmed before connecting to the radio, since programming voltages may damage the radio and cause problems programming.
The aprstracker firmware version 0.12 (supporting 9600 baud GPS) by PE1ICQ and PE1RXQ can be downloaded here: aprstracker-0.12.tar.gz.
Programming the tracker information
The tracker can be programmed with any program compatible with the PE1ICQ and PE1RXQ software. The aprstracker-0.12 software includes a Linux program to configure the tracker, and software by Jedrzej SQ2DK, which can be downloaded from here, and allows for easy programming via Windows.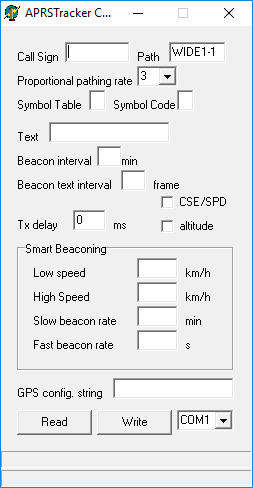 Programming is done with an FTDI USB-TTL-Serial interface connected to J2. This can be done when the board is connected into the radio and powered. To program, J3 (GPS link) must be removed, as it uses the same UART (data input on the PIC) for programming and GPS input.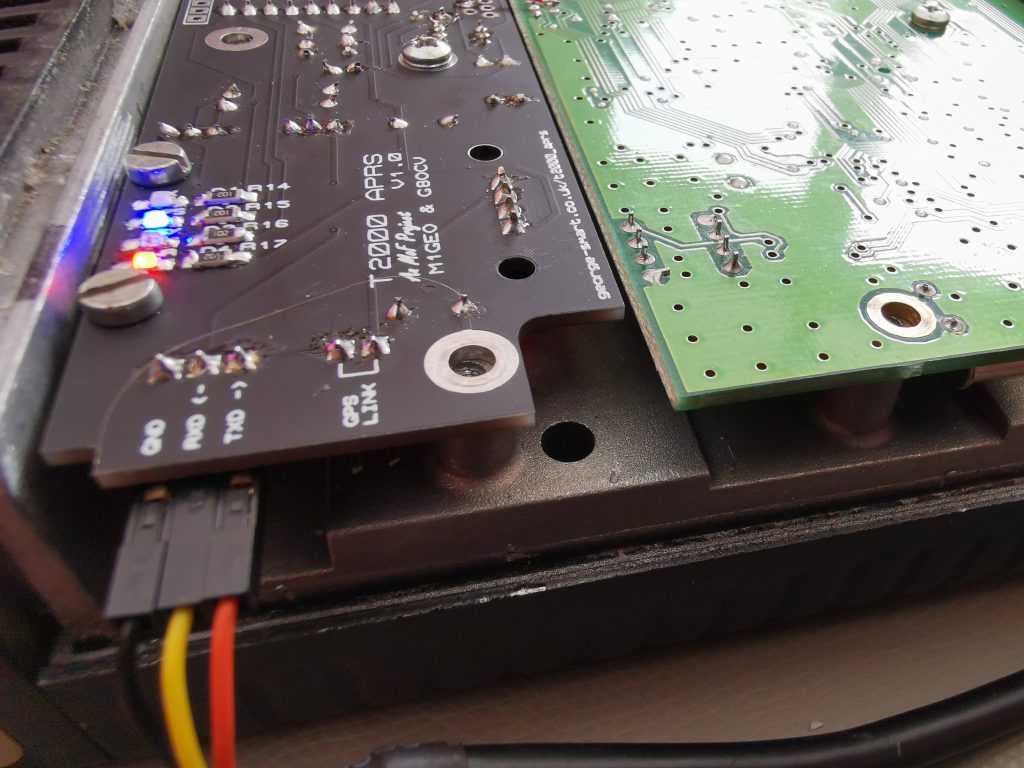 To run the tracker J3 must be linked. The GPS LED will flicker with GPS frames.